With the increasing use of Google Analytics, more nonprofits are measuring their websites' performance and expecting their sites to deliver more.
Nonprofits expect more because we are no longer happy with websites that just look good. Measurement means that we expect our sites actually to perform. And each time we measure, we expect the data to tell us how we can improve our websites.
However, improvement goes way beyond just updating website content or navigation. It's an organization-wide process that requires buy-in from leadership and a commitment to put users first. It means giving staff protected time and funds to test and experiment. It also means that your website must continuously adapt to users' expectations.
Improvement cannot wait until your nonprofit redesigns its website. Instead, it must be regularly scheduled into your organization's work plan, so that the website adapts and grows with your organization.
Here's how to make website improvement a regular practice in your organization:
1. Use website measurements to help your organization meet its goals
Most nonprofits measure their impact each year by how successful their major projects or events have been. Your website should be the tool that helps you achieve that success.
When your goal is revenue
Start by defining the specific goal for your event, e.g., raising $100,000.
Direct all your incoming communications (such as email, ads, and social media) to a specific landing page on your website. The purpose of the landing page is to remove any distractions and focus your readers' attention on just one issue: raising funds for your event.
Using Google Analytics, measure such activity as where users come from, how long they stayed on the landing page, and what they clicked (either to the donate page or ticket purchase page).
Measuring helps you determine what needs improvement. For instance, if traffic is low, test out different types of copy on your incoming communications pieces. If the click rates on the donate/purchase button are low, experiment by changing the placement of the button, words used for the call to action, or get opinions from some of your users on how you can make the landing page copy more persuasive.
When your goal is awareness
In this case, your website should be improved to increase engagement. While people can see your appeals, petitions, or website content, it's not enough for them to know. Awareness must lead to action or a deeper willingness to understand more about the causes promoted by your nonprofit.
Here's where your website can help: by measuring responses to surveys/polls, conversations in discussion forums, or the number of email signups, your nonprofit can gauge the level of interest in your cause.
Designing a persuasive homepage is the first step, as it should contain a broad statement announcing your vision. Once again, measurement is key. If people are landing on your homepage, but there's a high bounce rate, or a low sign up rate, experiment by changing your feature image and impact statements. Your copy should include statistics, stories demonstrating personal benefits to those your nonprofit has helped, or provide practical tips on how your readers can help.
2. Schedule improvements
While item 1 deals mostly with monitoring and measuring your users' engagement with the website, website improvement also requires that your internal processes be in sync. Shane Diffily calls this website governance, and it covers four areas:


Governance: Creation of a structure and internal systems to manage your website. Having governance also requires alignment with strategic goals and working directly with leadership.


Infrastructure: Maintenance of website technology, such as code, hosting, or content management systems.


Maintenance: Updates to content and navigation fit here, as does measuring impact, conversions, and conducting user research.


Development: This includes tasks to develop a new website section, such as planning, testing, launching, and training. It can also be applied to the development of a new website.


How to implement a governance plan
Create a schedule that allows you to plan improvements consistently.
You can download the full spreadsheet for free on my website
.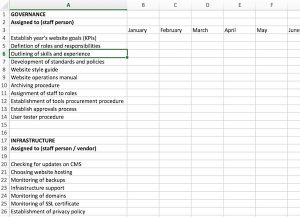 The schedule should be collaborated on throughout your organization (not just by the communications/marketing team). Include future planning, technology changes, and even how you will obtain buy-in. Align any improvements with the budget, operational, and strategic goals.
3. Use data to get buy-in
Data gives leadership the ROI they are looking for. It's also key to obtaining their buy-in when trying to convince them that websites need constant testing and experimentation beyond the redesign period.
NTEN offers basic and advanced courses on how to read Google Analytics data
.
However, data needs context and explanation. Here's how to make the data meaningful for your leaders:


Group your information by goals. That way, data presentation helps to highlight your wins and becomes relevant to leaders' needs.


Pull out metrics that demonstrate how your organization has met its specific goals. For instance, how much has been raised, how many registrants do you have to a conference or event? How have donations or memberships increased?


Get more specific. For instance, did your email messages lead to readers directly visiting the donate page on your website? Did readers click a unique link to download a resource? Have visits to a unique page on your website have increased in a certain period?


Ignore vanity metrics such as visits, users, or session times. While traffic may have increased to your website, such traffic loses value if very few of the visitors are taking any action.


With these tips, your website will become a powerhouse that will justify the cost spent on any redesigns. It will also become a living tool that contributes to your nonprofit's success.