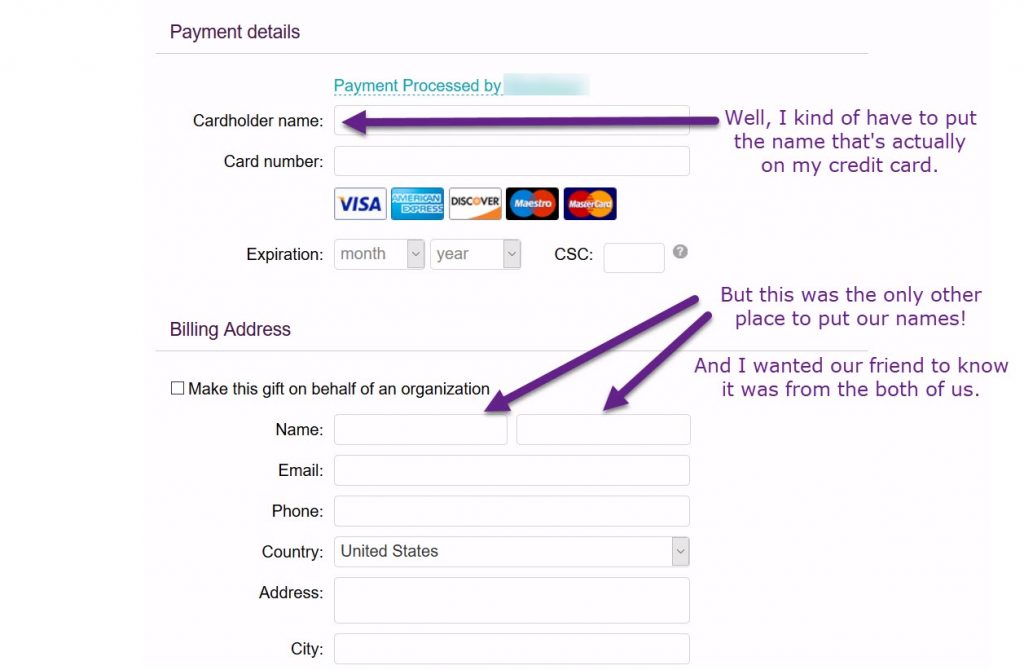 Because my spouse and I have different last names, I probably filled it in like this: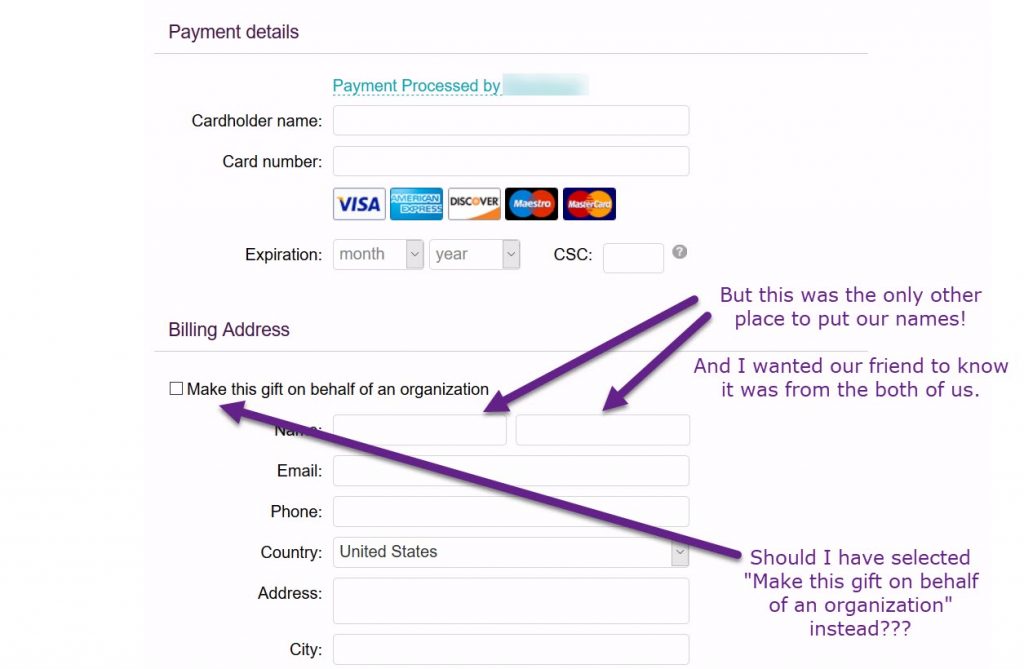 If your organization constantly struggles with low-quality data, whether it's incorrect or incomplete, chances are that there is an underlying usability issue—or several.
That's right: It's not the fault of your website visitors, your colleagues, or your volunteers.
Wait, so does that mean it'
s your
fault?
Good news: you can do something about it!
Guidelines to improve user interfaces
There are
10 usability heuristics
that are commonly used both as guiding principles and to identify opportunities for improvement. The examples I shared of the online donation form are what happens when something is awry in the match between the system and the real world.
Here are the other nine:


Visibility of system status—Ever had a panicked donor call you because they accidentally submitted their online donation twice? This is probably because they clicked the "Submit" button, and there was no spinning wheel, progress bar, or anything to indicate that the form was submitted and processed.


User control and freedom—I once worked on a database when once you entered something as one type of record, you couldn't change the record type. You had to copy EVERYTHING to a new record and then delete the old one. This is the opposite of user control and freedom.


Consistency and standards—If you're a PC user, it's jarring to use a Mac because the program controls are in a different place, and vice versa. However, if you're a Mac user using a Mac, you probably don't even think about how to minimize a window.


Error prevention—Do you have phone numbers in your database that are missing area codes or are incomplete? Data validation is a form of error prevention.


Recognition rather than recall —You're making a guest list for the ribbon-cutting on the new playground. Would you rather try to list off the largest donors from memory or look at a donor report to create the guest list?


Flexibility and efficiency of use—When copying and pasting, do you prefer to use CTRL+C and CTRL+V, or to right click to see all your options? The first may be more efficient if you remember the keyboard shortcuts, but both work, allowing flexibility and efficiency.


Aesthetic and minimalist design—Ever visited a website and felt like you were in Times Square because you didn't know where to look? Someone got carried away with all the cool visual things they could do and forgot what they really wanted the user to do.


Help users recognize, diagnose, and recover from errors—"Error code 4238" doesn't tell me what's wrong, how to fix it, or whether I can. "Tray 2 is empty" tells me that the copier is out of paper in Tray 2 and that I simply need to refill it.


Support and documentation—In an ideal world, it would be so intuitive that you wouldn't need any help and documentation. But we don't live in that world, so provide some other support for when people need it.


Draw a complete picture of your data flow
Have you heard of service design? If not, here's a good explanation from the team at
Practical Service Design
:
"Service design is a human-centered design approach that places equal value on the customer experience and the business process, aiming to create quality customer experiences, and seamless service delivery."
Think about a particular process in which you start by collecting data and use it to do something, like make a decision or send a mailing. Identify all of the inputs and outputs, the start and end points. Who are all the people in between? Is there anybody on either end of the start and end points? Does the process need to be extended?
Map out the process. Then walk through it, talking to as many users as possible. Find out what parts of the picture are missing and fill in those blanks. Go through the parts of the process you don't normally see Sit with people.
Ask why
they do things the way they do—the answer may surprise you. And often when you sit with people and watch them perform a task, you begin to see why.
Then look for the common denominators. For example, if data is entered incorrectly or inconsistently, consider what may be missing:


Data validation, like requiring a postal code have five digits if the country is the United States


Multiple choice options when there should only be a limited set of answers, like having a dropdown for states instead of a free text field


Templates, so you make sure that everyone collects the same data each time


Form questions or field names that are commonly misunderstood. Consider rewording them in language that makes sense to whoever is entering the data.


Training or up to date documentation—Perhaps people are getting confused because your organization changed its program model and the how-to guides keep referencing data you no longer collect. Or perhaps, the data being asked for is no longer relevant.


The more you can do to design for better quality data upfront, the less time you'll spend trying to clean up, sort through, or interpret incorrect, incomplete, or inconsistent data.
If people put off entering data or using the database, find out why it's frustrating. Maybe there are steps or redundancies that are no longer necessary now that your systems are integrated. Are there any data you no longer need to collect to streamline the process? Maybe there are too many report options and now only a few of them truly get used—how is a new staff member to tell and not simply get overwhelmed? Perhaps the order of the process needs to be arranged to better match the real (current) workflow—it's frustrating because the system doesn't match the real world.
This is just a start, but it hopefully can illustrate how to begin looking at your own data management processes and systems. You'll be rewarded with better quality data and less frustrated colleagues, volunteers, program participants, and donors.