At nonprofits, we know how important it is to understand your audience. To listen deeply, and to understand the motivation of everyone in your ecosystem—from the constituents you serve to the volunteers who help make your work possible. Some call this human-centered design. We prefer to think of it as following the need.
The emphasis on listening has been in
Empower Work
's DNA from the very beginning. Before launching the organization,
founder Jaime-Alexis Fowler
sought out to validate a hunch: challenging work situations are universal, but access to resources is not.
We conducted
quantitative surveys
with 140+ responses; market research; and more than 100 interviews with career coaches, workforce trainers, HR professionals, executive coaches, diversity and inclusion specialists, labor and employment attorneys, managers, labor organizers, and most importantly, people who have faced tough work situations. We saw a
tremendous need
for confidential, accessible, and immediate support for work issues—and designed Empower Work based on the needs of the people we serve.
This practice of deep listening has continued as we've grown. What creates the best experience and drives the best outcomes is at the heart of our organizational decision-making. We strive to apply human-centered design principles to every element of our work, whether it's choosing a prefered mode of communication (for our users it's SMS!) or launching our first public service announcement (PSA) campaign.
Launching our first PSA campaign
In late 2018, MUNI and Clear Channel donated ad space on buses and bus shelters across San Francisco. It was an opportunity to capture attention during an optimal time: a work commute. We worked with our pro-bono partner
Odysseus Arms
to create a human-centered ad concept that would speak to the people we serve.
Knowing that the ads would be featured on a moving bus, the visual and accompanying copy needed to be concise, direct, and effective. The team at Odysseus Arms drafted a concept that reflected our community's needs and could be processed quickly by busy commuters.
One of our consultants introduced us to
PickFu
, an instant polling service. Through PickFu, we were able to survey 50 respondents between the ages of 18 and 54 and ask whether, upon seeing our ad, they would text us if they were facing an issue at work.
The results
came in lightning fast—it took exactly 31 minutes.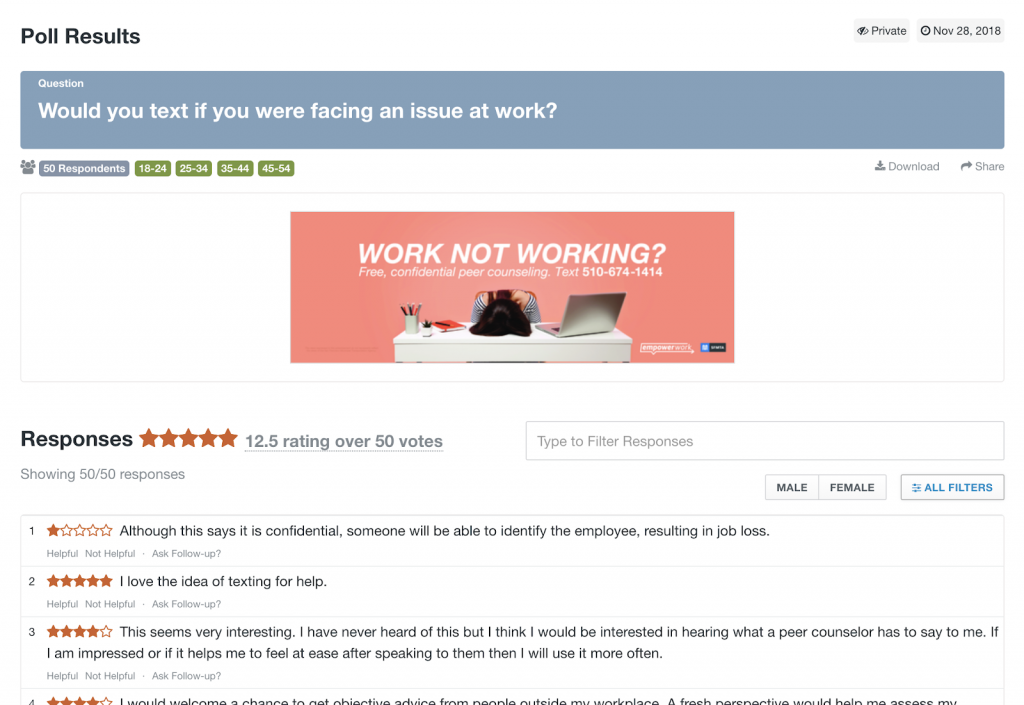 The response to our ad was largely positive. Many remarked they would welcome a fresh perspective or even just the opportunity to vent. People who said they wouldn't use the resource generally fell into two categories: they already had people in their lives they could confide in (which is great!), or they weren't clear on what type of counseling services we offer, and whether it was truly confidential and free (which it is!).
Since the imagery seemed to resonate, we kept it as-is. However, after reading through the reactions, we adjusted the copy. Rather than focus on usage ("Free, confidential peer counseling."), we focused on hurdles ("Navigate tough work issues with free, confidential peer counseling.")

As we test more concepts in the future—from ads to landing pages—we'll continue using survey tools to ensure we're listening to and resonating with the community we serve. One of the biggest advantages is that we can target poll respondents based on traits such as gender, age, income level, and even their primary mode of transportation—so the next time we test a bus ad, we can test it with a group wholly made up of bus riders.
We've received an overwhelming positive response from the bus and bus shelter ads. Many people told us that they had no idea a resource like this existed, and they're so grateful to have found support. "I have spent years looking for actionable advice for my work woes," one texter expressed after seeing our ad on a bus. "Have a wonderful evening and know that you have made my journey a little bit easier."
Deep listening and empathy can go a long way.
Tips for creating human-centered ads and content
It's not enough just to test.
Testing isn't a goal in itself. Rather, it's a three-step process:


First, clearly define what you're looking to learn. Once you've laid out the question you're seeking to answer, determine the optimal means to test for it. For example, what's the best survey question to pose? How much information should we provide to those surveyed? Who is our target audience for this test? What software or services do we need to employ?


Only after you've completed the first step should you proceed to the testing itself. The more you integrate testing into your day-to-day operations, the better you'll get at it, and the easier it will become.


Once the test is complete, critically examine the results. This is the most important step in the process. It's not enough to gather data just to have it; what good is analytics if they sit in some esoteric report that nobody looks at? Instead, discuss what learnings can be derived from the test. Put an action plan into place for how to implement changes, whether they be in your operation itself, your ads, or your website.


Not all feedback is created equal
When you hear negative (and even positive) feedback, ask yourself whether it's coming from your core constituency. If not, you don't have to weigh it as heavily as feedback that comes from, say, a client or previous donor. It also means that friends and family are usually not your best sounding board for testing. They may be too close to you or your organization to give an opinion that is aligned with our community. Don't solicit feedback in an echo chamber.
Testing should be a help, not a hassle
Don't think of testing as a speed bump that gets in your way. Feedback should clarify the process, not hinder it. If you find a testing method too difficult or burdensome to employ, look for an easier solution. With so many software platforms to choose from, it's simpler than ever to incorporate testing and idea validation into your nonprofit. Remember, testing isn't just another thing to do. It's a compass that points you in the direction of what to do.